Sep 30 2011
Rick shares his picks for Thanksgiving iPad apps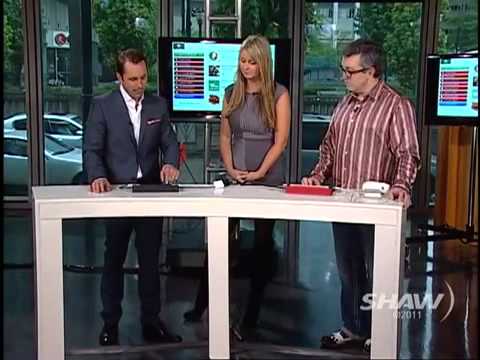 In Canada, due to our earlier harvest, we celebrate Thanksgiving in October. So, just as soon as we've stopped remarking, "Can you believe the summer is over already?" we start into marveling at the fact that it's time to think turkey and stuffing.
In this visit to Urban Rush, I demonstrate five iPad apps that will help you get into the Thanksgiving spirit (does every holiday have a spirit?). I've got something to help you work your gratitude muscle, another to help you find the perfect Thanksgiving side dish, an app to help you pair the meal with the right wine, one to help you make sure you don't burn the turkey and finally one to keep you from getting sick eating leftovers that are way past their prime.
Gratitude Journal Plus ($2.99) It is a widely held belief that those who are more thankful are also happy. It makes sense—you can hardly imagine bringing yourself down by thinking of all the things you have going for you in your life. Gratitude Journal helps you get into the daily habit of counting your blessings.
Epicurious (FREE – ad supported) This is a beautiful app that's full of recipes. Tell it what you have to work with—the food in your pantry and the dietary concerns of your dinner guests—and Epicurious will offer you a selection of recipes to fit the occasion. It even has an entire section called "I Can Barely Cook"!
WineStein Pro (FREE) This app helps people like me, who don't know a thing about wine, more intelligently pair the right wine with the meal. You simply tell the app what's for dinner—EVERYTHING—the main course, the kind of sauce, the all the side dishes. WineStein will spin for a little while and return with some great recommendations that you probably wouldn't have had the guts to try without its guidance. (my only beefs with this app is that it only runs in portrait orientation, it looks like a blown up iPhone app and does nothing to take advantage of the iPad's screen real estate and it only shows wine prices in € Euros.
iGrill (FREE – requires iGrill Bluetooth Probe Thermometer
(approx. $90)) Wouldn't it be great if you could put the turkey and a roast ham in the oven and have your iPad let you know when they're done? Of course it would. That and more is offered by the iGrill Bluetooth Probe Thermometer and accompanying FREE app. The device functions as a dual-probe thermometer with or without the iApp, but when you pair it with your iPad, it let's you keep an eye on the temperature of two dishes at once after first letting you know the optimal temperature for the meal you're attempting to prepare. It will even estimate how much time is left before a dish is ready, so you know just the right time to boil the potatoes!
Leftovers aka The 4 Day Throw Away (FREE) This app was actually made for the iPhone, but it warrants a look. What Leftovers does is tell you how long a given food item may be left at room temperature, refrigerated or frozen before microbial nasties start moving in and turning it into a gastronomical biohazard. As if the time limits weren't enough, Leftovers actually give you a list of the usual suspects in case you do get sick from your left-out leftovers; complete with incubation periods and symptoms of infection.
People Who Read This Item Might Also Like…
At
AppMan.TV
, Rick Yaeger (Vancouver's iPad Expert) looks at the latest and greatest iOS apps as well as the gadgets and accessories that take your iPad to the next level.